2018 Dates
Represented by:
The Old School Gallery. Alnmouth.
The Biscuit Factory Gallery, Newcastle upon Tyne
Matthew Bank Gallery, Jesmond
Matthew Bank Gallery is primarily a picture framing gallery, however they usually have two or three of my paintings on display and available to purchase from the shop.
Currently
Work is on show at The Biscuit Factory - Farne Islands paintings
and at The Old School Gallery - North East Coast paintings
and at The Tower House Gallery Seaton Sluice Lindisfarne Castle prints only.
United Reform Church, Burden Road, Jesmond
with The North of England Art Club
Nov 14th -18th 11:00-17:30
Private View Friday 16th Nov. 19:00-21:00 drinks and nibbles please come along.
Last weekend of November 24th and 25th Nov 10-5 Ouseburn Open Studios,
Studio 7 at The Biscuit Tin
Finished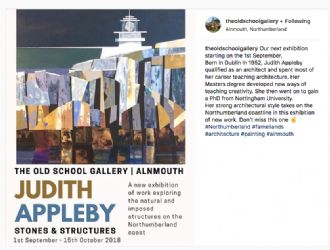 1st Sept -15th Oct 2018
The Old School Gallery Alnmouth
Solo show "Stones and Structures"
new work North East Coast and Northumberland.
The Hatton Gallery, Newcastle University, 2 paintings (The Wills Building and Farne Island Puffins) with Friends of the Hatton summer show July-3rd August18
Woodhorn Colliery Museum Open exhibition "Ocean" about the North East Coast and its seafaring heritage see links page for location and opening times and admission charges.
Saturday 10th Feb - 7th May 2018
PERMANENT - Public access (NFS)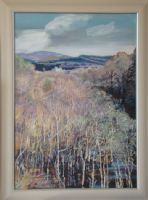 The NHS have acquired three of my paintings for exhibition in the entrance foyers of two North Eastern Hospitals, Whitley Bay and Hexham
Woodhorn Colliery Museum (Home of the 'Pitman Painters' collection)
has acquired my "Woodhorn Colliery Archive Collage" to hang in the Museum offices.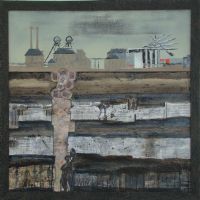 The Bob Abley Gallery, Spennymoor Town Hall ,Co.Durham.
Following my September 2014 exhibition, the gallery has retained this painting for their permanent collection.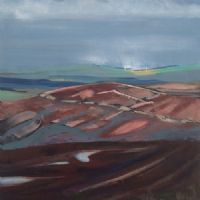 "Distant Wind Turbines, Upper Weardale"
John The Clerk Wetherspoon's pub in Cramlington you can enjoy 'Fish and Chips Friday' by one of my Kielder paintings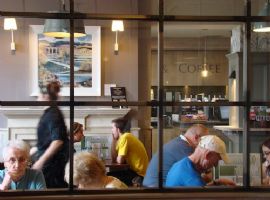 The High Main Wetherspoon's pub in Byker has an 'acoustic' ceiling...24m x2m (big!)
The ceiling panels designed to enhance the acoustics of the long bar/restaurant space were painted by a small group from the North of England Art Club. My contributions were the yellow cranes and the blue staithes.
See "Projects" page