Current Galleries: see also gallery "in galleries"
The Old School Gallery. Alnmouth.
Several new paintings now available for Autumn Show
including this acrylic gauche painting "At the Quay"
Finished
Ouseburn Open Studios
Studio7 at The Biscuit Tin Studios, Warwick Street Newcastle 5 mins walk from The Biscuit Factory Gallery
25th and 26th November 2017 10am to 5pm
Autumn Show (Sept-15Novemeber) at The Biscuit Factory preview evening 6-9pm Friday 8th September 2017.
As one of the 'Featured Artists' I will have several paintings on show including this "Redesdale Ridge and Furrow"
see Gallery "at The Biscuit Factory.." or use Link
Currently (December17) most of my paintings at The Biscuit Factory are in store but please ask at the desk to view any.
Matthew Bank Gallery, Jesmond
Although Matthew Bank Gallery is primarily a picture framer show room, they usually have one or two of my paintings available from the shop. Currently this one of Cornriggs in Weardale
Holy T Art Fair Jesmond September 14th preview evening and all day Saturday 15th September, I will have a selection of original paintings mostly small size including this of Dunstanburgh Castle
PERMANENT - Public access (NFS)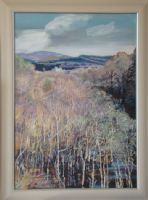 The NHS have acquired three of my paintings for exhibition in the entrance foyers of two North Eastern Hospitals, Hexham and Whitley Bay
Woodhorn Colliery Museum (Home of the 'Pitman Painters' collection)
has acquired my "Woodhorn Colliery Archive Collage" to hang in the Museum offices.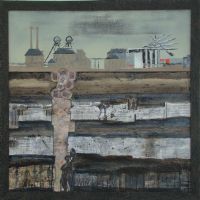 The Bob Abley Gallery, Spennymoor Town Hall ,Co.Durham.
Following my September 2014 exhibition, the gallery has retained this painting for their permanent collection.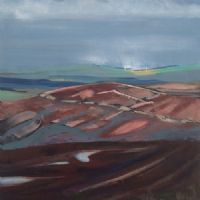 "Distant Wind Turbines, Upper Weardale"
John The Clerk Wetherspoon's pub in Cramlington you can enjoy 'Fish and Chips Friday' by one of my Kielder paintings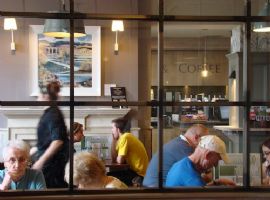 The High Main Wetherspoon's pub in Byker has an 'acoustic' ceiling...
The ceiling panels designed to enhance the acoustics of the long bar/restaurant space were painted by a small group from the North of England Art Club. My contributions were the yellow cranes and the blue staithes.
See "Projects" page